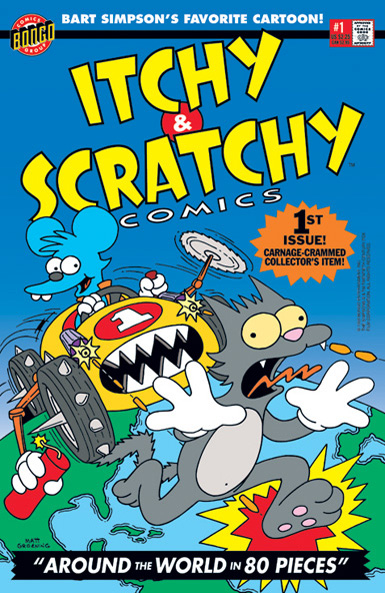 Itchy & Scratchy Comics was a short-lived series, and one of the four original series released in late 1993 with the start of Bongo Comics. The first issue was released on November 29, 1993, and only two more issues were released after that as well as one special edition, called Itchy & Scratchy Holiday Hi-Jinx. The comics tried to expand on two characters that really did not need any expanding, and the readers thought Itchy and Scratchy was best in short, violent bursts and that full-length stories only took away from the visceral shock of the cartoon, so the comic book series was canceled in 1994. Itchy & Scratchy continue to be featured in Simpsons Comics as short stories while Simpsons family members are watching TV.
There were three different versions of the first Itchy & Scratchy issue available at the time. One version came with a poster that could be combined with posters contained in Radioactive Man  #1, Simpsons Comics  #1 and Bartman #1 to make a giant poster. This version sold for US$2.25. Another version that came out at the same time only cost US$1.95, but had a bar code on the cover and did not come with a poster. The third and the rarest variant was a reprint of the comic and it had the top right portion of Bart Simpson's head covered over the original bar code. This version also cost US$1.95 and did not come with a poster.
In 1993, there was a signing at Golden Apple Comics in Los Angeles, where members of the Bongo Comics group autographed 500 copies of Itchy & Scratchy #1 and gave out a special Certificate of Authenticity (COA) with them. Each COA was individually numbered and had a raised seal stamped onto it.